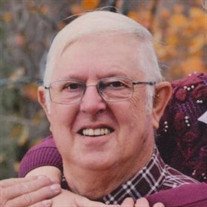 Larry Richard Isgrigg
July 11, 1940 - February 2, 2020
Larry Richard Isgrigg, 79 of Rushville, passed away on February 2, 2020 in Rushville. He was born on July 11, 1940 in Shelbyville to the late Earl and Virginia (Higgins) Isgrigg. Larry is a 1959 graduate of Shelbyville High School. He married Susan (Farthing) Isgrigg on March 9, 1978 and she survives. Larry served his country in the Army National Guard. He was a police officer on the Rushville Police Department from 1969 to 1989. Larry loved being in church, outdoors, and animals. He was known for the love of his family and his artwork through painting. In addition to his wife, Susan, he is survived by his children, Angie (Rodney) Peters of Rushville, Tonya (Brian) Campbell of Rushville, son, Larry (Tracy) Isgrigg of Rushville; and Keri (Richard) Kalkhoff of Rushville; brothers, Rick (Linda) Isgrigg of Shelbyville, Don Isgrigg of Flat Rock, and Earl (Linda) Isgrigg of Phoenix, AZ, and sister, Karris Simmonds of Shelbyville. He will also be missed by his 7 grandchildren, Brittany and Brayden Peters, MacKenzie, Madisyn, and Viktoria Campbell, Miley and Kenna Isgrigg. Larry is preceded in death by his parents and sister, Linda Mohr. Services will be held on Thursday, February 6, 2020 at 1 PM in Moster Mortuary, with Pastor John Wall presiding. Friends are welcome to visit the family from 11 AM until time of service. Burial will be held in Rushville East Hill Cemetery.