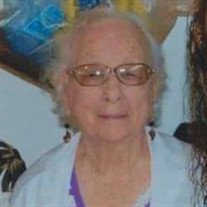 Hazel Ellen Stiers, 98, a lifelong Rushville resident, passed away December 29, 2019 in Rushville. Hazel was born March 20, 1921 in Rushville to Willie Davis & Lottie Ellen (Hudson) Wright. She was a 1939 graduate of Rushville High School. Hazel married Ralph Stanley Stiers on August 31, 1940 and he preceded her in death on October 5, 1977.
Hazel had been a longtime member of the First Baptist Church in Rushville.
She worked at 3D for 5 years and did secretarial work for Rushville City Utilities 12 years and Arrow Gas from 1969-1987. She worked with the Foster Grandparent organization at RES from 1985-2001 and was a door greeter at Walmart from 1990-2013.
Hazel is survived by her son, Philip E. Stiers of Ashland, KY, her daughters, Barbara J. Stiers and Martha (Larry) Lloyd all of Rushville, granddaughters, Rhea Dawn Lloyd-Buckley and Lisa (Aaron) Kirchoff all of Rushville, great grandchildren, Whitney (Tom Paul) Owens, Donnathon Buckley, Brooke Nicole (Andy) Spaeth & Megyn Nicole Kirchoff and great grandchildren, Jaylen & Tressler Owens + another on the way in June 2020. She was preceded in death by her parents, husband, brothers, Earl, Roy, Glen & Carl Wright, infant sister, Blanche Mildred Wright and granddaughter, Christi Lloyd-7/20/85.
Services will be held at 1 PM Thursday, January 2, 2020 in Moster Mortuary, Rushville with Pastor Jim Lloyd presiding. Friends are welcome to visit the family at the mortuary from 11 AM until time of service on Thursday. Burial will be in Rushville's East Hill Cemetery.
Memorial contributions may be made to First Baptist Church or to the Foster Grandparent program.