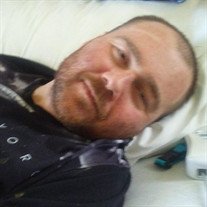 Timothy M. Hatfield, 38, a lifelong Rushville resident, passed away January 8, 2020 in Rushville. He was born February 7, 1981 in Rushville to Brenda Jane (Hatfield) Brown. Tim lived with his grandparents, Raymond & Becky (Morris) Hatfield for many years through his life. He worked at Pellet Company for a couple of years. He enjoyed listening to Grateful Dead Music and watching IU Basketball.
Tim is survived by his sons, Dakota Hatfield of Rushville and Camden Hatfield of Rushville; daughter, Alexis Hatfield of Oklahoma; sisters, Barbara McKinsey of Milroy, Debbie (Bob) Moore of Rushville, Kathy (Doug) Kidd of Mauzy, Joan Hauger of Rushville, and Lucinda Brown of Fayette County.
Tim is preceded in death by his mom, grandparents, Raymond & Becky (Morris) Hatfield and daughter, Kylia Hatfield.
Services will be held at 1 PM Monday, January 13, 2020 in Moster Mortuary, Rushville with Pastor John Wall presiding. Friends are welcome to visit the family from 11:30 AM until time of service on Monday. Burial will be in Rushville's East Hill Cemetery.