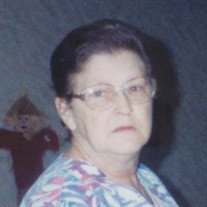 Sallie Mae Hatfield
2/28/1940 - 3/3/2020
Sallie Mae Hatfield, 80 of Rushville passed away Tuesday, March 3, 2020 in Indianapolis; IN. Sallie was born in Albany, KY on February 28, 1940 to the late James and Ermon (Pierce) Bennett.
Sallie worked at Schnadig Corp. for 20 years and also worked as a nurse aid at Regency and Brandywine Care Centers. She married William Hatfield on April 23, 1986 and he preceded her in death on May 18, 1991. Sallie was a member of the Christ Fellowship Church in Rushville.
Survivors include 2 sons, Galen Cook and wife Dorothy of W. VA, Robert Workman and wife Kimbriana of Rushville, a brother, Mack Bennett and wife Nina of Franklin, KY, 2 grandchildren, Vincent Freeman Jr., Crystal Fiorentino and husband Kyle. She will also be missed by 3 great-grandchildren.
In addition to her parents and husband, Sallie was preceded in death by a brother, James Bennett, a son Jeffrey Cook and a daughter, Jeanetta Cook.