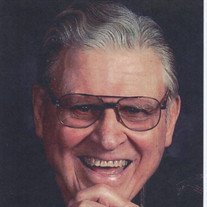 Robert Byron Hiner
87, of Rush County, died February 25, 2020.
Born September 20th, 1932 in Rush County, he was the son of Floyd and Lois (Trowbridge) Hiner, both deceased. He married Martha (Deerin) Hiner on April 12, 1953, she passed away on August 18, 2008.
Byron graduated from Mays High School in 1950, and was a veteran of the United States Army, serving for 2 years.
Mr. Hiner was a lifelong resident of Rush County and a beloved member of Center Christian Church. He always loved to spend time with his family and the Center Christian Church body. As a lifetime farmer in northern Rush County, he was an independent hybrid seed grower and seller, and long-time member of the Indiana Independent Seed Grower Association. Byron enjoyed competing in and judging horticultural seed shows, attended the Agricultural Short Course at Purdue University, and was a member of the Alumni Seed Association. He was awarded World Champion in ear corn and soybeans at the Royal Agricultural Winter Fair in Toronto Canada and Grain Champion at the International Exposition in Chicago, IL.
Survivors include sons, David B. Hiner of Rush County and Michael S. (Beatrice) Hiner of Cataula, GA.; and grandchildren, Shawn D. (Kumari) Hiner and Lindsay J. Hiner of Philadelphia, PA.
Besides his parents and wife he was preceded in death by daughter, Diane Marie Hiner, and his sisters Maxine Hiner and Joyce Roeschlein.