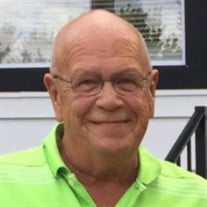 Michael J. Weidner
August 15, 1946 - May 26, 2021

Michael J. Weidner, 74 of Rushville, passed away on May 26, 2021 in Indianapolis. He was born in August 15, 1946 in Indianapolis to the late Lowell L. and Josephine (Gulde) Weidner. Michael was a 1964 graduate of Rushville High School. He served his country proud in the United States Army from 1965 to 1967. Michael married Cindy (Spurlin) Weidner on July 11, 2005 and she survives. He was a carpenter all his life and worked at Trane Corporation for several years, retiring in 2009. Michael was such a handy man, everything he touched was fixed. He enjoyed gardening, golfing, and spending time with his grandchildren.
In addition to his wife, Cindy, he is also survived by his daughter, Anne (James) Zachery of Rushville; sons, Michael (Jenny) Weidner of Greenfield and Adam (Erika) Weidner of West Virginia; mother-in-law, Shirlee Spurlin; brothers, John (Susan) Weidner of Indianapolis, Tony (Renni) Weidner of Maryland, and Billy Tom Weidner of Rushville; sisters, Jane Fry of Rushville, Jean Ann (Don) Oesterling of Mulberry, IN, sister-in-law, Melinda "Mel" Weidner of Rushville; sister-in-law, Anita (Tom) Simpson and brother-in-law, Mark (Jana) Spurlin; step brother, Bruce (Linda) Levi; step sister's-in-law, Chris and Shirley Levi and several nieces and nephews. He will also be missed by his grandchildren, Madge, Jack, and Mia Weidner, Molly and Owen Zachery, Reed and Seth Weidner.
Michael is preceded in death by his parents, step-mother, Hazel Levi Weidner, brother, Lowell "Sam" Weidner, Jr., brother-in-law, Ed Fry; granddaughter, Emily Zachery, father-in-law, Gene Spurlin, step-brother's, Rick and Pete Levi.
Services will be held on Wednesday, June 2, 2021 at 10:30 AM, with Warren Engel presiding. Friends are welcome to visit the family from 4 PM- 8PM on Tuesday evening at the mortuary. Burial will be held in Rushville East Hill Cemetery. In lieu of flowers donations may be made to M.o.R.E for Kids, Rush County Community Foundation-Ashley Spurlin Memorial Scholarship Fund, or to the Donor's Choice.