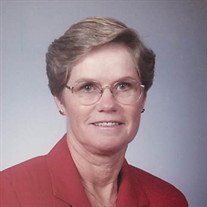 Marcella Dunigan McAhren
April 19, 1942 - March 17, 2020
Marcella Dunigan McAhren, 77 of Rush County, passed away on March 17, 2020 in Shelbyville surrounded by her family. She was born on April 19, 1942 in Beattyville, KY to
the late Herman and Ruby (Turner) Dunigan. Marcella was a 1960 graduate of New Salem High School. She married George E. McAhren on October 30, 1959 and he preceded her in death on August 1, 2005. Marcella co-owned and operated the Public Paint & Wallpaper in Rushville. She was a member of St. Paul's United Methodist Church for many years. Marcella was part of the King Daughter's. She will always be remembered for the love she showed her grandchildren. Marcella always enjoyed bowling and working in her flowers. Marcella is survived by her son, Tony (Susan) McAhren of Rushville; daughter, Terri
(Myron) Shouse of New Palestine and Shelly (J.B.) Gardner of Arlington; brother, Dan (Julie) Dunigan of Glenwood; sisters, Gale (Wendell) Richardson of Fishers, Ritta (Bill)
Bostic of GA, and Reva (Jim) Glass of Connersville. She will also be missed by her grandchildren, Melissa (Eric) Lower, Leslie (Harold) Spooner, Ryan (Grace) Shouse, Erica
Dobson, Bryce (Fiancé, Shelby) Gardner and great grandchildren, Shea Worley, Kaden Worley, Sloane Spooner, Tre Spooner, Addie Dobson, Josie Dobson, and one on the way. Marcella is preceded in death by her parents, husband, brother, Jim Dunigan; sisters, Phyllis Phillips and Janis Grass.