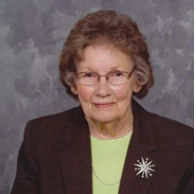 Lillian Jones
October 30, 1922 - March 24, 2021

Lillian Jones, 98, a long time Rushville resident, passed away March 24, 2021 in Rushville. Lillian was born October 30, 1922 in Columbia, KY to Marvin Lee & Mary Lucas (Squires) Piercy. She was a 1941 graduate of Straughn High School where she was class President and Valedictorian. She married Harold E. Jones on May 26, 1944 and he preceded her in death on August 22, 1967.
Lillian was a rural mail carrier in Rush County from 1978-1989.
She was a long time member of the First Presbyterian Church in Rushville, the Friendly Homemakers Club, Rush County Historical Society, N.A.R.F, and the Covered Bridge Club. Lillian loved working crossword puzzles and enjoyed working in her vegetable and flower gardens.
She will be missed by her daughter; Marilyn Ann Barker of Greensburg, daughter-in-law; Betty Jones of Rushville, grandchildren; William Ryan Barker of Greensburg, Morgan Jones of Muncie and Courtney (Casey) Rusk of Noblesville and her great grandsons; Jackson Douglas & Tatum Ray Rusk and former son-in-law; Greg Barker of Greensburg. She was preceded in death by her parents, husband, a son; Morris Dale Jones and her brother; Ivan Piercy.
Services will be held at 1 PM Saturday, March 27, 2021 in Moster Mortuary, Rushville with Rev. Wally Wilson presiding. Friends are welcome to visit the family from 11 AM until time of service on Saturday. Burial will be in the Rushville East Hill Cemetery.
Memorial contributions may be made to the First Presbyterian Church of Rushville or to the Rush County Humane Society.