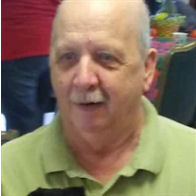 James "Jim" Hampton
November 17, 1946 - March 10, 2021
James "Jim" Hampton, 74 of Rushville, passed away on March 10, 2021 in Indianapolis. He was born on November 17, 1946 in Rushville to the late John Carr and Elsie (Smith) Hampton. Jim married Shirley Sue (Buchanan) Hampton on July 4, 1996 and she preceded him in death on February 11, 2017.
He retired from Valeo Engine Cooling Inc. in Greensburg after several years. Jim loved working crossword puzzles and reading Harry Potter.
Jim is survived by his son, Tim (Amber) Hampton of Rushville and Michel (Debra) Sweet of Rushville; daughters, Tammy (George) Palmer of Shelbyville and Michelle Dice of Rushville; sisters, Betty Hampton, Peggy (Roger) Hood and Phyllis Nienstedt; and brother, Charles Hampton. He will also be missed by his 9 grandchildren, 15 great-grandchildren, and his fur baby, Brindi.
James was preceded in death by his parents, his wife, 2 brothers and a sister.
Services will be held on Monday, March 15, 2021 at 1 PM at Moster Mortuary, with Pastor Tom Sosbe presiding. Friends are welcome to visit the family from 11 AM until the time of service on Monday. Burial will be in the Rushville East Hill Cemetery.
Memorial contributions may be made to the Rushville Animal Shelter.