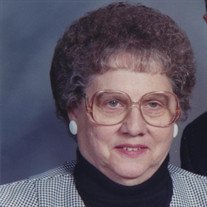 Helen Dolores Heller
July 15, 1936 - December 9, 2020
Helen Dolores Heller passed away on December 9, 2020 in St. Vincent Hospital in Indianapolis. Helen was born July 15, 1936 in Henrietta, WV to Delbert & Dorothy (Bennett) Whipkey. She was a 1955 graduate of Norton High School in Barberton, OH where she married Donald Russell Heller on January 21, 1955, he survives. Don & Helen have resided in Rushville since 1959.
She had full time jobs of Mother, Homemaker & Preacher's wife. She enjoyed collecting and trying new recipes. She was a founding & charter member and regular attendee of the Rushville Church of Christ.
In addition to her husband; Donald of Rushville, she is survived by her children; Cheryl Oakes (William) of Glenwood, Donald Heller Jr. (Wilma) of Speedway, Kenneth Heller of Crawfordsville, Eileen Heller Proffitt (Dave Pennington) of Rushville, Timothy Heller (Bess) of Rushville, Michael Heller (Trudy) of Carthage and Beverly Yager (Jerry) of Clarksburg, 16 grandchildren, 30 great grandchildren, her brother; Ronald Whipkey of Finlay, OH, sister-in-law; Mary Ann Whipkey of Barberton, OH. She was preceded in death by her parents, brothers; Albert & Gene Whipkey and granddaughter; Beverly Oakes Mays.
Services will be held at 1 PM Friday, December 18, 2020 in the Rushville Church of Christ. Rev. Jim Coyle will preside. Friends are welcome to visit the family in the church on Friday from 10:30 AM until time of service. Burial will be in the Rushville East Hill Cemetery.
Memorial contributions may be made to the Rushville Church of Christ or to RCCA.
Moster Mortuary, Rushville entrusted with arrangements.