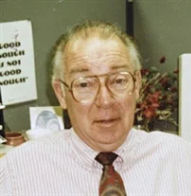 Gerald "Jerry" C. Johnson
October 19, 1931 - March 22, 2021
Gerald C. (Jerry) Johnson, 89, of Indianapolis, IN passed away at Franciscan Hospice House on Mach 22, 2021. Jerry was born in Indianapolis on October 19, 1931 to Frederick W. and Helen Julienna (Bannon) Johnson, both deceased.
Jerry took Rushville as his adopted home away from home after his marriage 58 years ago on July 5, 1963 to Elizabeth Kay (Scott) Johnson. Her family, John and Lois Scott, Dan Scott and Jean Scott Mohr, became his family and his love for Rushville and Rush County grew from there. He and his beloved Katie maintained many family members and longtime friendships here over the years and now he has come home to rest.
His career was based in electronic manufacturing industry, both at the purchasing management level and later at the regional sales level for various companies. Jerry retired in 2000 from Diversified Systems Inc. in Indianapolis, manufacturer of electronic pc boards and component prototypes. Jerry served in the US Air Force at the rank of Airman First Class.
In his retirement, Jerry cultivated a bird and squirrel sanctuary in the back yard and spent many relaxing hours watching the activity this created from his screened porch under the watchful eye of his devoted cat, "Sam".
Jerry is survived by his wife, Katie of Indianapolis, daughter and son-in-law, Julie and James Colson of Pendleton, brother-in-law, Dan Scott, and sister-in-law, Jean Scott Mohr, both of Rushville.
In addition to his parents, Jerry was preceded in death by his brother, Fred W. Johnson Jr.
He will be cremated and his ashes will be interred in East Hill Cemetery. Calling will be from 11 AM to 1 PM on Friday, March 26, 2021 at Moster Mortuary, Rushville, immediately followed by a memorial service. Military rites will be observed at the mortuary. Burial will be private.
Memorial contributions may be made to Franciscan Hospice House.