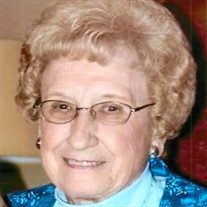 Obituary for Elizabeth Ray
Mrs. Frances (Elizabeth) Jackson Ray, age 89, of Rushville, passed away the morning of, January 29, 2021, at her home surrounded by her husband and four daughters: Linda (Roger) King of Palm Bay, FL, Cynthia (Phil) Myers of Dana, IN, Denise (Phil) Connolly, and Ruthanne (Robert) Weatherly, both of Rushville.
She was born July 24, 1931, in Jackson Township, Rush County. Elizabeth was the youngest child of the late William and Margaret Mills Jackson. She was a 1949 Rushville High graduate. Elizabeth married Charles M. Ray on May 18, 1952, he survives.
Elizabeth was preceded in death by five brothers, Leroy, Chester, Milton, Francis, and Marion; five sisters, Mabel Sterrett, Mildreth Smith, Wilma Baker, Laverne Brown, and Marie Jeffries.
Elizabeth lived most of her life in Rush County. She worked for the General Telephone Company for many years following graduation. After she and Charles married, they briefly lived in Anchorage, Alaska where Charles was stationed in the United States Air Force and their daughter, Linda, was born. They soon returned home to Rushville. In 1964, Elizabeth started an in-home daycare where she cared for many children over 35 years. Countless Rush County children knew her as "Liz" their "second mom" and all brought many years of joy to Elizabeth's life even after retirement. She was able to attend most of their graduations, weddings and hold their children.
Being a mom and grandma was what gave Elizabeth joy and happiness. She was wonderfully devoted to her children and family. Christmas was her favorite time of the year, and their Christmas Eve parties with friends and family are some of their fondest memories. Her nurturing personality always shined through, even in the end days, giving everyone her sly smile, letting them know she was okay.
Elizabeth's love for family and community was admirable. You could always catch her and Charlie at Memorial Gymnasium cheering on the Rushville Lions – especially girls' basketball. She loved sitting in the gym, seeing many familiar faces and prior daycare children growing up on the courts. It was always a great opportunity for her to keep a close watch on those she loved and cared for.
Elizabeth was also a 70-year member of First Presbyterian Church, Rushville, where she served as Deacon, Elder and various other committees. She was a 35-year member of Kappa Delta Phi Sorority, where she served as President, Secretary and Historian.
Also surviving are seven grandchildren, Brandon and Blaine Ballard, Phillip Myers,
Andrea Swinford, Lance and Blake Connolly, Bryson Weatherly; five great-grandchildren, Madason Engelking, Ava, Ruben and Raylan Swinford, and Scarlett Ballard; and one great-great granddaughter Mersadies Engelking. She is also survived by several nieces and nephews.
The family will receive friends from 4pm to 8pm at Moster Mortuary in Rushville on Monday, February 1.
Funeral Services will be on Tuesday, February 2 at 11 am at Moster Mortuary, with the burial immediately following at East Hill Cemetery.
The family wishes to thank the caring staff of Hospice of South Central Indiana for their loving care in these final days.
Memorials can be made to the First Presbyterian Church, the Rush County Community Foundation, and Hospice of South Central Indiana.