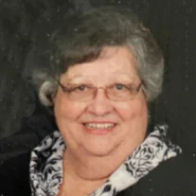 Dana Jean (Knoy) Conde
1/4/1947 -2/15/2021
Dana Jean (Knoy) Conde, 74 of Arlington, passed away on February 15, 2021 in Rushville. She was born on January 4, 1947 in Rushville to the late Vincent Gene and Phyllis (Stewart) Knoy. Dana was a 1965 graduate of Rushville High School and attended one year of college at Milligan College in Tennessee. She then came back home and married the love of her life, Joe Conde on September 15, 1968 and he survives. Dana was a homemaker until her daughters started school. Then went onto work at Arlington Elementary and actually retired after 23 years at Rushville Elementary as a Title 1 Tutorial Teacher. Dana was a member of Arlington Christian Church and treasurer of the Posey Home Helpers. Dana will be remembered for the love she showed her family, friends, and life. Dana truly loved spending time with her grandchildren. She enjoyed watching sunsets, reading and counted cross stitch.
In addition to her husband, Joe, she is survived by her daughters, Dawn (Kris) Porter of Markleville and Angie (Tim) Sloan of Rushville; brother, Stephen (Patti) Knoy of Indianapolis; 4 grandchildren, Connor Holder, Abby Sloan, Hannah Holder, Jakob Sloan; 2 step grandchildren, Ryan Sloan and Kelly Griffith; 2 step great-grandchildren, Delaney Griffith and Paxton Griffith. She will also be missed by her two aunts, Mary Lou (Robert) Veatch of Arlington and Betty Wilson of Falmouth.
Dana is preceded in death by her parents.
Services will be held on Monday, February 22, 2021 at 11 AM in Moster Mortuary, with Pastors Gary Holt and Fred Hickman presiding. Friends are welcome to visit the family on Sunday, February 21, 2021 from 2 PM -6 PM. Burial will be held in Rushville East Hill Cemetery. Memorial contributions may be made out to Arlington Christian Church.
To send flowers or a memorial gift to the family of Dana Jean (Knoy) Conde please visit our Sympathy Store.