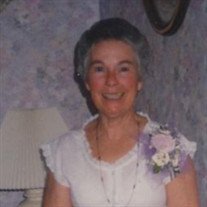 Bettie Joan Edwards
August 21, 1932 - March 14, 2020

Bettie Joan Edwards, 87, went home to meet her Lord & Savior on March 14, 2020. Joan was born August 21, 1932 in Rushville to Ralph "Shorty" and Bonnie Chloe (Reese)
Hileman. Joan was a 1950 graduate of Rushville High School. She married Lemuel Holland on August 21, 1950 and he preceded her in death on November 23, 1953. She
married Frank Donald Edwards on July 21, 1956 and he survives. Joan is also survived by her sons, Frank Olin Edwards of Rushville and Rick Patrick Edwards of Logansport, her daughters, Deidre (Doug) Hawkins of Greensburg and Deanna Rochelle Gwinnup of Rushville, her 5 grandchildren, Daniel (Angie) Hawkins, Barbara (Anthony) Martin all of Greensburg, Dustin (Erica) Gwinnup of Falmouth, Ricky & Alec Edwards of Logansport & Rushville, 7 great grandchildren, Ethan & Alan Hawkins,
Pierce & Penelope Martin, Rize Edwards, Kynley & Deacon Gwinnup, 2 step great grandchildren, Abbie & Tabby and a step great-great grandson, Lincoln. Also surviving is
special friend, Ann Lacy of Rushville, Brother-in-law, Richard Stewart of Forrest, OH and sister-in-law, Rosemary Hileman of Anderson. Several nieces and nephews also survive.
Joan was preceded in death by her parents and several brothers and sisters, Wilma Nighbert, Annie Nighbert, Pauline Schoettmer, Mildred Brown, Geneva Wall, Irene Click, Kenneth Hileman, Walter Lionel Nighbert, Virginia Hileman and Doris Stewart. She worked many of her younger years for her Aunt Mae Clark's nursing home in Rushville and spent many years as a waitress and housekeeper at the Country Fare Restaurant in Homer. She was a long time member of the Trinity Presbyterian Church in Rushville.
Joan always kept an exceptionally clean home and was a wonderful cook. She enjoyed singing, playing the organ, sunbathing and laughing; she had her own unique laugh. She
loved her life with her husband, her children and her grandkids and great grandkids. She was blessed with many close friends and neighbors throughout her life.