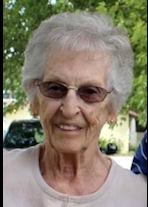 Betsy "The Barber" Brown
Betsy Mae (Trent) Brown, passed away peacefully surrounded by family January 4, 2020.
Funeral Services will be 10 AM Friday Jan. 10, 2020 at Todd Funeral Centre with Rev. Gary Jordan officiating. Burial will follow at Rushville's East Hill Cemetery. Visitation will be 4-8 PM Thursday, Jan. 9th at the funeral home.
She was born Aug. 11, 1938 in Russellville, KY, to the late John T. and Estelle (Hulsey) Trent. Betsy married David C. Brown July 12, 1997 and he preceded her in death Aug. 21, 2016.
Betty was well known in the community as "Betsy the Barber". She became a barber in 1966 and open Betsy's Barbershop in the early 70s. She loved cutting hair, antiquing, working in her flower gardens, going to flea market's, traveling and had a passion for dancing! She will be remembered for her beautiful kind heart. She would help any person or animal in need.
Betsy will be loved by her sons, Richard D. Peterson, Chill W. (Cheryl) Elmore and John S. Bone; daughter, Susan L. (Scott) Tebbe two brothers, John (Sharon) Trent, Jr, and Robert (Debbie) Trent.
She had a great love for her grandchildren, Brandon Rose, Brian (Sonia) Rose, Blaine (Jillian) Tebbe, Cameron (Esme') Tebbe, Andrew Peterson, Sarah Peterson, Emma Elmore, Evan Elmore, Joshua (Promise) Bone, Paige Bone, Shelby Bone, Marci Ping, Trent (Amanda) Davis and 15 great grandchildren.
In addition to her husband David, preceding her in death are two children Michael Bone and Joni Davis, one sister Peggy Puckett and one brother Donald Trent.
Memorials may be made to the American Cancer Society PO Box 22718 Oklahoma, OK 73123.