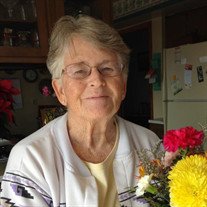 Anna Mary Webb
February 24, 1936 -March 30, 2020
Anna Mary Webb, 84 of Rushville, passed away on March 30, 2020 in Greensburg. She was born on February 24, 1936 in Rushville to the late John L. and Ida Ruth (Hankins) McDaniels. Anna was a 1955 graduate of Rushville High School. She married Robert D. Webb August 28, 1955 and he preceded her in death on August 11, 1990. Anna was a member of the Main Street Christian Church. She enjoyed flowers, gardening, watching birds and traveling. Anna was part of the PTA, Homec, and Rushville Road Runners. She will be remembered for her gentle heart and sweet smile. Anna's words of wisdom were to always enjoy your family.
Anna is survived by her son, Donovan Dale Webb of Rushville, Kathy (Jeff) Leavens of Milroy and Cynthia (Bob) Lynch of South Carolina; brother, Charles A. McDaniels and sisters, Cheryl Kay Hallgarth Henry and Debra (Rodger) Evans. She will also be missed by her 8 grandchildren and many great-grandchildren.
Anna is preceded in death by her husband, parents, son, David Dean Webb, brother, John McDaniels and sister, Sandra Sue Ruble.