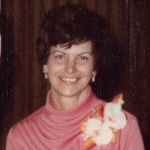 Alice Mae Osborn
January 16, 1931 - March 7, 2020
Heaven gained another angel this week with the passing of Alice Mae Osborn. She passed away Saturday March 07, 2020 at her home surrounded by her loving family at the age of 89.
She was born on January 16, 1931 to John & Ethel Gasser in Centerville, Indiana. Alice grew up in Laurel, Indiana before moving to Milroy where she graduated in 1951.
She married John R. Osborn on April 05, 1952 and moved to Rushville, Indiana. They were married until his death on December 26, 1977.
While in Rushville she worked at International Furniture. In 1966 John and Alice moved to Muncie, Indiana. She was employed at Ball State University as a girl's dormitory hostess for seven years, then with the Ball State Police Department for an additional twenty years until her retirement.
She was a member of the White-Water Valley Railroad Team where she worked as a hostess tour guide on the train which runs from Connersville to Metamora.
She was honored and recognized several times over the 40 years of volunteering at IU Ball Hospital where she worked in the emergency room, the kidney dialysis center and the Library of Life Love and Laughter. She was known for her sewing abilities and most remembered for the heart shaped pillows she made for the cardiac patients along with caps and booties for newborn infants.
She was also an active member of the United Midget Racing Association for many years and was normally seen in the pits on race day supporting her daughter, son and grandsons.
She was a member of St. Paul Methodist Church in Rushville and Gethsemane Methodist Church in Muncie. She was also a sister of Gamma Zeta Sorority.
Alice enjoyed working in her yard and sitting on her favorite front porch.
She is survived by sons Tim (Anita) Osborn of Venice, FL., Jay (Penny) Osborn Muncie, IN., seven grandchildren Angelic (Alan) Lykins, Greenwood, IN., Julie Osborn of Anderson, IN., Tim Jr. (Angie) Osborn of Venice, FL., Elizabeth Hardisty of Fishers, IN. Zac (Ashley) Osborn of Muncie, IN., Nick (Kim) Speidel of Parker City, IN., Whitney (Larry) Perine of Navara, FL., 18 great grandchildren, 5 great-great Grandchildren, a Brother Max Gasser of Evington, VA., and many nieces and nephews. She was proceeded in death by her parents John and Ethel Gasser, her stepmother Lottie Gasser, husband John R. Osborn, Daughter Diane Speidel, Brothers Keith and John Gasser, and her sister Katherine Smith.
Friends may share stories and condolences at www.meeksmortuary.com. Memorial contributions may be directed to the American Heart Association.